Custom Home Building vs Buying a readymade home begs the question. Where? What is the location of your prospect property? Is it a prime neighborhood? Does the value of the land substantially increase after you put the structure on it? The bottom line, if the dirt value is really really high as it is in the City of Palo Alto and the neighborhoods around it. The answer is Yes and Yes! The Custom Home will not only give you a very desirable home to match your dreams, but it will also enhance the value of your project substantially. If you decide to sell your newly built home right away instead of moving in it, you will take home lots of capital gain, not too shabby. Let's see what it takes to build a custom home? Buying a house is simple you pay top dollar, the key is handed over to you. You are buying convenience. Imagine a house that has thousands of variables, how is it possible, except in a rare case they will all fit your dreams? The answer is definitely a custom home.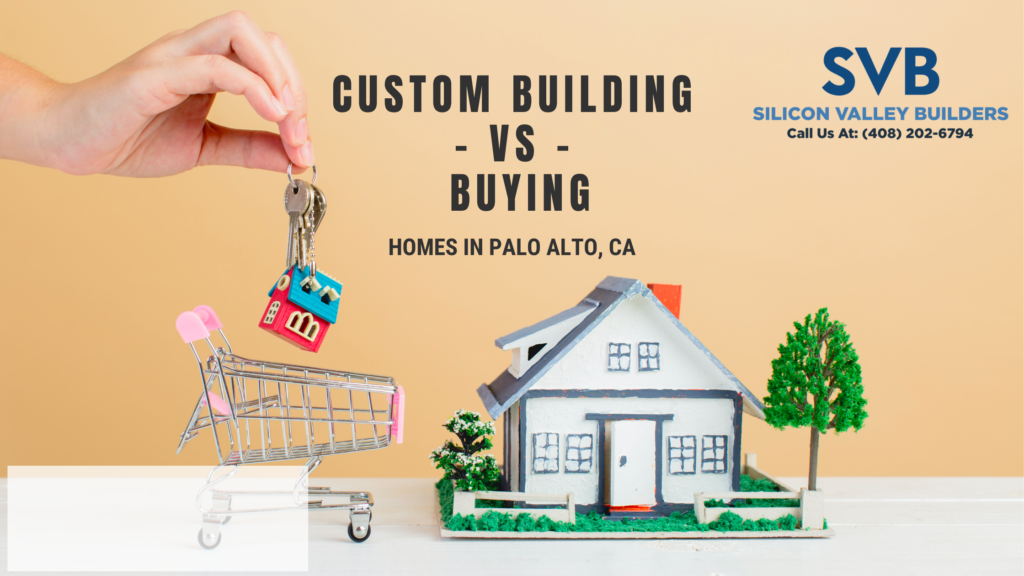 What then you do with the inconvenience? Let's walk the process to see what the inconvenience is? We search for the land or the teardown property for our customers. Once the property is identified we vet it for construction and analyze its feasibility and true value with the help of our realtors. We then work on the finance or the mortgage arrangements if needed. The design begins after the surveyor's work is completed. A geological survey is needed in almost all cases. We determine if the basement is an option if the house is in the flood zone or not. Demolition and Grading come next, to be followed by waterproofing and foundation. Framing team pulls in and gets the rough framing out of the way. We install the exterior windows in the same phase. We pull the paper protection on the exterior walls for stucco or whatever exterior we choose. Stucco team moves in and provide the stucco base coat while the roofer provides the protection on the roof and load Tiles for the house to settle in. Plumbing, electrical, low voltage wiring, network, security, sound system wiring, etc. are installed. inspections done house is insulated and drywall is installed. We are buttoned up.
Cabinetry is installed countertops bathrooms tiles light and plumbing fixtures are selected and installed. Choosing the color palette for painting and finish carpentry sounds complex enough, and inconvenient? Sure it is, there is more but not for you.
We take the inconvenience out of the custom-building and do this all for you, hand you the key when all is done. We call it our turnkey operation, and it is painless. But please call us when you decide to do it. Don't try to do this alone, when an experienced help is there we are just a phone call away for a free evaluation. Please call (408)-202-6794